Kirby Jean-Raymond pushed his political views to another level at the AW Pyer Moss show at New York Fashion show on Sunday.
An all black model catwalk, with maybe the odd asian model is a statement in itself! In a time where the Fashion industry again faces diversity problems. But Kirby Jean-Raymond had a bigger statement to make.
The Runway Show was presented with an All Black Singing Choir. That Chanted verses like, "There's too many niggers Rikers" and "Every Nigger is a Star" inspired by Kendrick Lamar.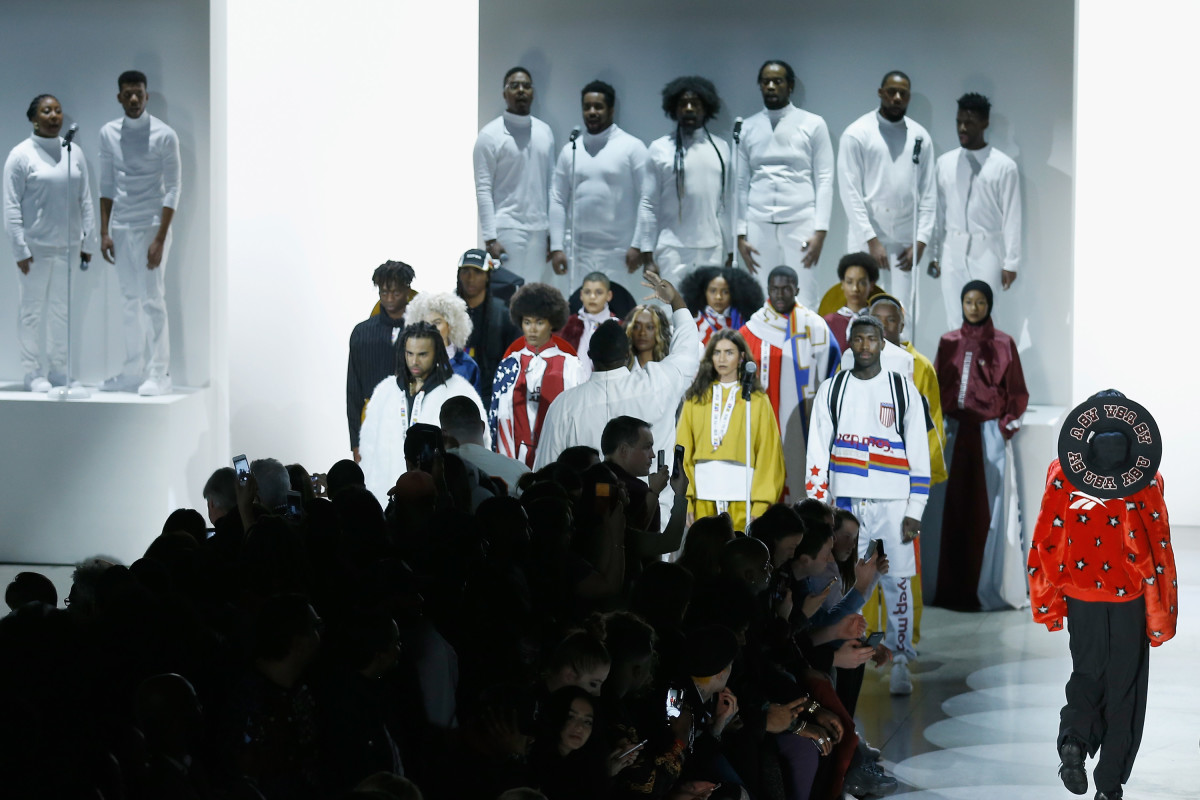 If you follow my Instagram @WednesdaysWorld you will see I did a few posts back in 2016 on Cross Colours. So when i Came across it within the collection in didn't go unnoticed. I will dedicate a piece to Cross Colours here!
Then on the back of the pink shirt above reads Pslams 91 which partly reads:
Whoever dwells in the shelter of the Most High
    will rest in the shadow of the Almighty
This for me sums up the aim of what Jean-Raymond is representing!
Pyer Moss – You have become my designer to look out for and i can not thank you enough for being everything I have looked for in a Fashion Designer.
The collection called "Also American" represented how African-Americans don't feel like Americans. Pyer Moss is known for his political stand within his runway shows. He tells a story through his collection. for me he tells a story better then most designers currently out there.
There was a Cowboy  theme through out. With Cowboy Hats and Cowboy style lines and Western Cut Trousers.
The sportswear in the second half of the show was americanised with an element of astronauts with big Reebok Rucksacks. Reebok set up a collaboration with Jean-Raymond.
This says a lot about the current direction of brand Reebok and what it stands for. I clap my hands to them for making a move that many other brands would have shied away from.
The overall direction of the collection for me was refreshing, there was little trend following and more based around a theme.
But above all that the collection was just classic and stunning!
I feel passionate about what Pyer Moss has done at Fashion Week. I am a fashionista and the world of fashion still struggles greatly with diversity.
Personal Note:
My ex Manager told me that she was advised not to hire anyone from an ethnic background, for whatever reason. this makes me think back to the 20 plus Fashion interviews I have had without even an email back to say I hadn't got the job. I was right on paper, but not in person. once i realised that the colour of my skin may have played a part in this. I decided I was going to be in fashion, but it will be unlikely that I will be having another interview.
Thank you Kirby Jean- Raymond for breaking the fashion industry and being one of the first of many!
Wednesdays World